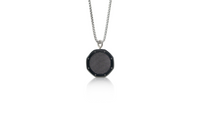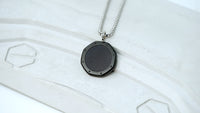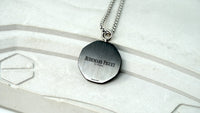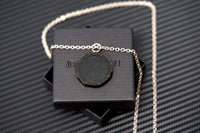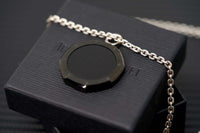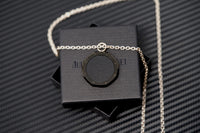 Audemars Piguet
Authentic Audemars Piguet Royal Oak Carbon Black Necklace Chain Medallion Swiss Made
This authentic Audemars Piguet Royal Oak necklace medallion offers truly unique look. This finely crafted and coated with Diamond-Like-Carbon (DLC) and features the iconic dial tappisserie pattern found in the Royal Oak. Areas of brushed and high polish finishes were painstakingly completed in Switzerland. Nothing was spared in the production of this item and just the same as their watches we arrive at an exceptional creation officially hallmarked "Audemars Piguet", "Swiss Made".

Please Note:
All of the items on our website are considered pre-owned. Please use pictures to judge quality and condition.

Condition of item: Like new - medallion has slight mark on bottom side.