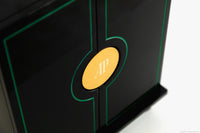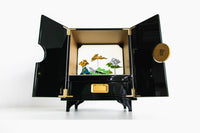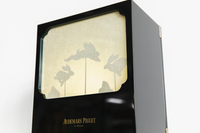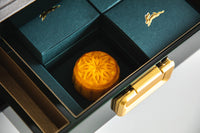 Audemars Piguet
Audemars Piguet Mid-Century Commemorative Shadow Cabinet
Audemars Piguet never ceases to amaze us with their level of creativity. In 2020 they participated in the 3,000-year-old Chinese tradition joining many prominent fashion houses in celebration of the Mid-Autumn Festival by designing this famous mid-century mod display cabinet. Their infamous production made headlines when it was released and soon after it disappeared from public eye and into the hands of one collector.
This amazing Audemars Piguet cabinet features a black lacquered finish and green stylization with an abundance of gold hardware. Nowhere else can one find such a truly unique and mysterious box until now. Time Traders worked hard to bring this unique opportunity to your private collection.
More on the festival.. Ancient Chinese emperors worshiped the moon in autumn to thank it for the harvest. Ordinary people took the Mid-Autumn Festival to be a celebration of their hard work and harvests. Nowadays, people mainly celebrate the Mid-Autumn Festival as a time for family reunions. This speaks largely to the soul of Audemars Piguet; keeping family traditions alive as a family ran business with it's heritage dating back to the founding year 1875.
Cabinet's dimensions: H 38cm x W 27cm x D 18.7cm and weighs in at 4.55KG.
Please Note:
All of the items on our website are considered pre-owned. Please use pictures to judge quality and condition.

Condition of item: Cabinet is fully functional, has small paint chip on drawer and some damage to legs. Additional photos available upon request.