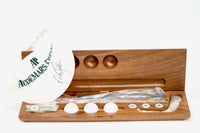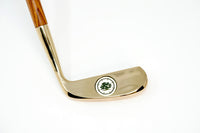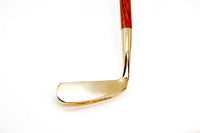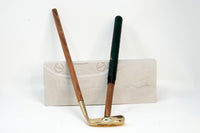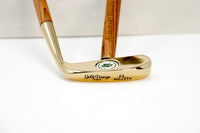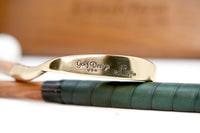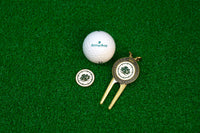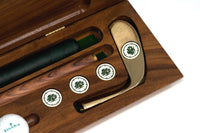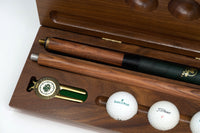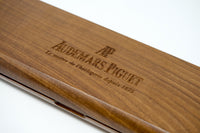 Audemars Piguet
One of a Kind Audemars Piguet Golden Golf Putter Display Trophy with Nick Faldo Signature Visor
Circa 1998, this luxurious custom made Audemars Piguet golf putter display is one of the rarest trophy items we have come across. For being two decades old, it's been remarkably well preserved. Within its hand carved wood display box, you will find an untouched three piece wood shafted gold putter emblazoned with Audemars Piguet's crest. The putter's wooden two piece shaft has been engraved with "Audemars Piguet" and is wrapped in a dark green calf skin leather. Set includes an Audemars Piguet divot tool in bronze (also logo'd) and is hallmarked for authenticity. Additionally included are three highly sought after Audemars Piguet Titleist 2 golf balls and three enameled Audemars Piguet Royal Oak hallmarked ball markers. This trophy item is extremely rare and will goto a true enthusiast of Audemars Piguet as a display. We have also added a one of a kind collectible Audemars Piguet golf visor signed by PGA World Champion, Nick Faldo (pictured). 
More on Nick Faldo's relationship and limited edition timepiece releases during the 80's and 90's with Audemars Piguet can be found here.
Time Traders is proud to also present the opportunity to acquire the rare Nick Faldo golf iron set and bag mentioned in article, click here for more information.
Please Note:
All of the items on our website are considered pre-owned. Please use pictures to judge quality and condition.

Condition of item: Like new